Our history
Josef Loder had little fun selling Ford and Suzuki off the shelf in 1980. When the first LJ80s hit the company yard in Odelzhausen, Josef and two friends had the idea to built its own accessories for the first "lifestyle" 4×4 Suzuki. A few heating pipes, a fitter in the neighborhood, an ad in the off-road-mag and the phone rang.
Since one of the three was a proud Greek, a Greek company name was set. The fourth letter in the alphabet, a pyramid as a symbol – delta cross-country sports were quickly chosen.
More than 40 years later, more than 20 people are sitting in the contemplative Unterumbach near Munich and tinkering and testing new developments for off-road vehicles and expedition vehicles.
The main areas today include rims from 16″ to 23″, AT&MT tires, fender flares, headlights, roof racks, bodylift kits, and much more.
Much has changed in recent decades, but one thing always remains the same, off-the-shelf cars are not so popular in Unterumbach.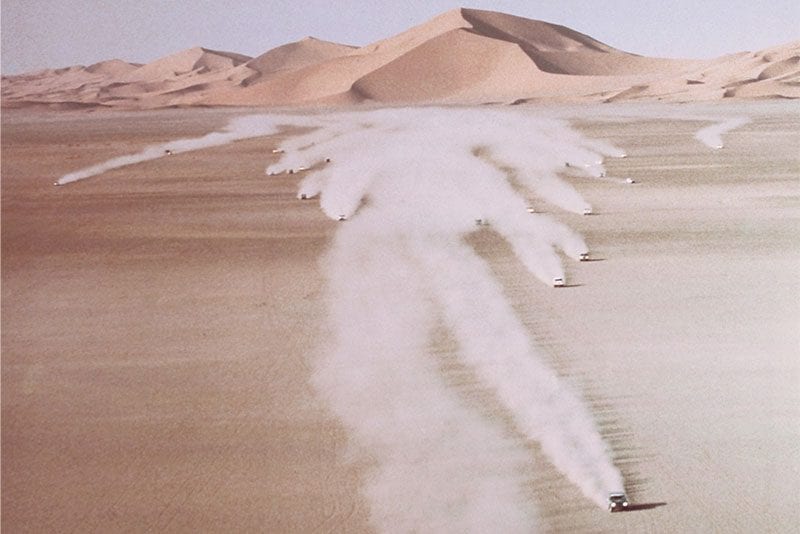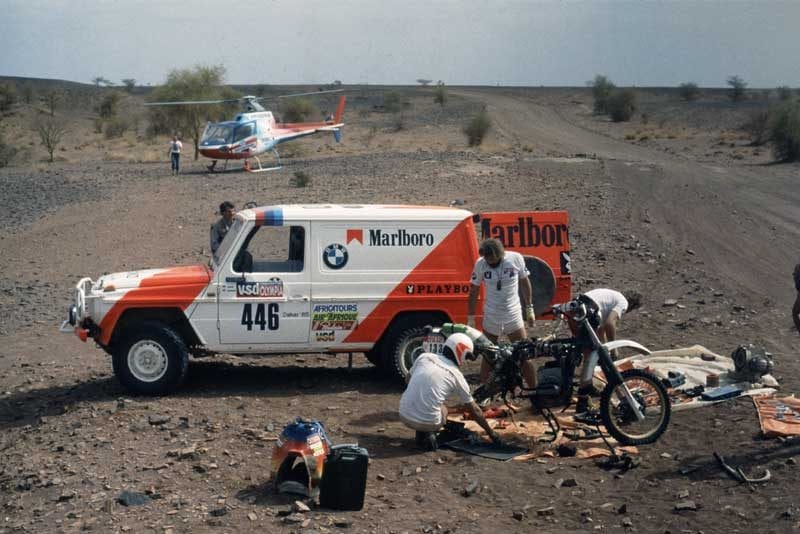 An interview with 4X4 Switzerland
with our founder Josef Loder
We met Josef Loder, the founder of delta4x4 and Rallye Dakar driver and talked to him about his life with four-wheel drive and his company, which is internationally renowned as a four-wheel drive specialist in the field of conversions.
The exciting thing about delta4x4 is that the company is not only active worldwide, but also has in-depth experience in the field of off-road and rallying through Josef Loder. This expertise is constantly being developed and in this way delta4x4 will continue to offer state-of-the-art tuning in the future, as the awards show. For example, delta4x4 received awards for tuning the Nissan Navara and the VW Amarok, but has also tailored the maybach Exelero rims in cooperation with tyre manufacturer Fulda. 4x4Switzerland wanted to know more about the medium-sized company from Odelzhausen near Munich.
4x4Switzerland: Mr. Loder, delta4x4 was founded back in 1980, making it one of the first companies on the market dedicated to off-road. Since you and your 4×4 passion led to the founding of delta4x4, first a few questions about you. We are keenly interested in when and how the off-road fever has gripped you.
Josef Loder: This fever caught me when I was driving a Munga (off-road vehicle of the German Bundeswehr) for the first time and saw what incredible things you can do with a 4×4.
4x4Switzerland: Which was your first SUV?
Josef Loder: My first four-wheel drive vehicle was a Suzuki LJ80, with which I drove the Paris-Dakar Rally in 1982 – a great adventure! So the Dakar Rally with the self-built Suzuki Jimny* was definitely my personal highlight with an off-roader. (Note: The Dakar Rally has been held since 1978.)
4x4Switzerland: Which 4×4 model do you currently find the most attractive price/performance/technology/can you?
Josef Loder: This is where the Ford Ranger wins, because it is cheap, has a powerful engine and very good technology in relation to what it costs. That's why I'm driving it right now.
4x4Switzerland: For which brand does your heart beat personally and why?
Josef Loder: On this point I am voting for the Land Rover brand, because it is a classic among all-terrain vehicles. The very fact that Land Rover only has four-wheel-drive vehicles in its range for the terrain speaks for this manufacturer. But also the history of the company, the placement of the brand and the car models themselves fascinate. So I'd love to buy a new Range Rover next.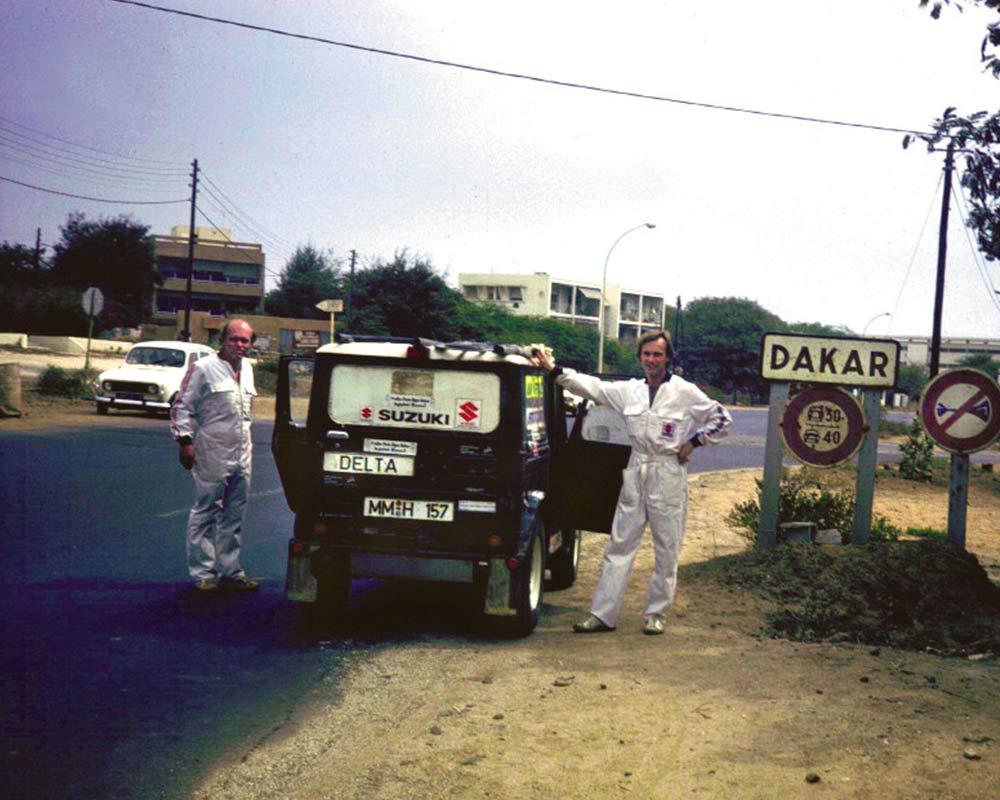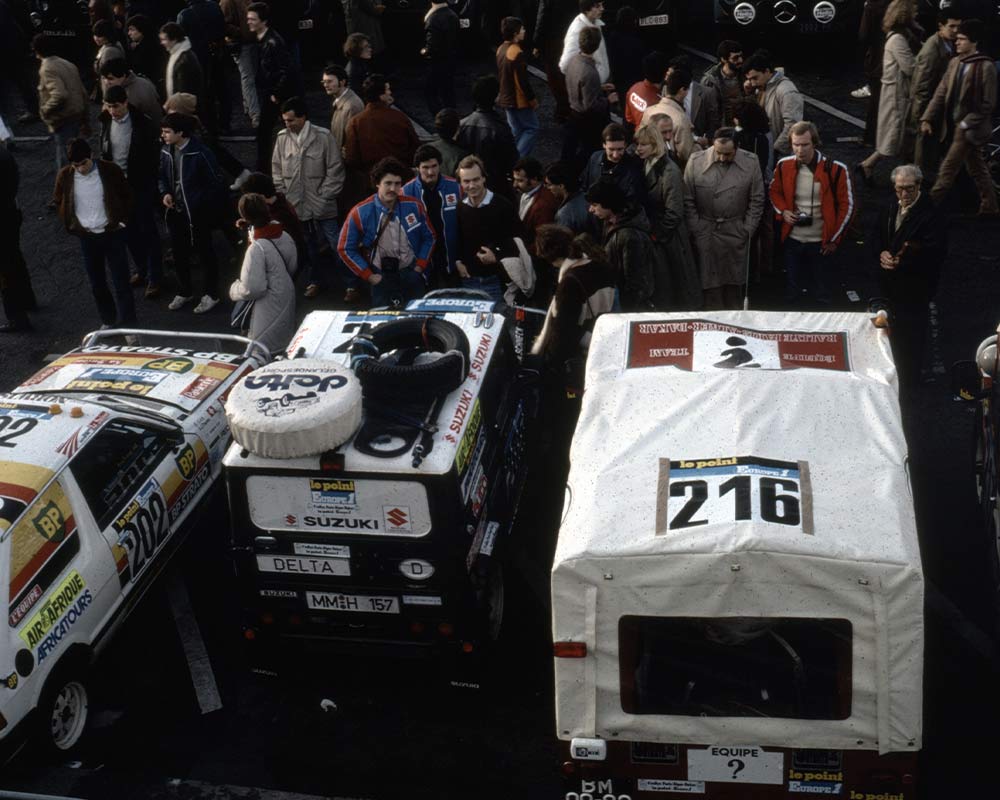 4x4Switzerland: Let's move on to delta4x4: How would you describe your company?
Josef Loder: The family business delta4x4 consists of a collection of off-road enthusiastic employees – from the technicians to the merchants – who are always looking for and finding new ideas to build crazy four-wheel-drive cars.
4x4Switzerland: What is the specialty of delta4x4?
Josef Loder: Generally speaking, the tuna of vehicles, i.e. the lifting and attachments. Anything that makes cars more interesting, faster, more beautiful and more off-road. Currently, the focus of delta4x4 is on pick-ups in Europe, from the Ford Ranger, the VW Amarok, the Mitsubishi L200, the Nissan Navarra, the Toyota Hilux and the Suzuki Dmax.
4x4Switzerland: Who is your clientele and why do you want to change and refine your car at delta4x4?
Josef Loder: The majority, i.e. about 90% of our sales, are car dealerships and car manufacturers, which we supply with refined, tuned vehicles. However, if you look at the 10% of the turnover commissioned by end users, we are talking almost exclusively about a male clientele. Often it is customers who own a medium-sized company and owners of craft businesses. They want to have their car rebuilt because they want to advertise with the vehicle, have fun tuning and also want to increase off-road capability. For this, an increase in soil clearance is needed many times, for example for use in the forest. Here we make many conversions for pick-ups.
4x4Switzerland: What is the share of foreign business?
Josef Loder: Overall, the proportion of customers from abroad is about a quarter, so we have customers from Argentina to Iceland and from the former Soviet states to Australia.
4x4Switzerland: Which product has been a racer so far, which one has been a penner?
Josef Loder: Front brackets in polished stainless steel have proved to be an absolute racer. I would call the parts we offer for the Opel Mokka a penner. The owners of these 4×4 cars do not appear to be accessories.
4x4Switzerland: What makes tuning for you?
Josef Loder: Any way to change pick-ups or SUVs in series version. This can start with the wheels, for example, where wider or larger tires can be used. Reconstructions of the exhaust system, additional lighting for the terrain, performance improvements or winches are also in demand.
4x4Switzerland: What was the most extraordinary conversion?
Josef Loder: The current conversion of a VW Amarok with extra large wheels 305/80/17 and special Beadlock rims is a very nice example. The use of the Beadlock rims, in which the tyres are firmly clamped on the rims and these cannot be loosened, gives the vehicle even more safety off-road. The challenge is that in Germany every part has to be technically removed. But delta4x4 has to overcome this hurdle as a tuning workshop, because we want to get road approval for such special tyres and self-produced parts.
4x4Switzerland: Which conversion of a 4×4 vehicle did you enjoy the most?
Josef Loder: Basically at all car conversions for rallies, starting with my first rally Paris-Dakar. It's fun to prepare a vehicle so that it can get through a complete rally and see that it works.
4x4Switzerland: Let's come to your international network: You have 19 bases abroad, including Auto Stieger in Switzerland. How do you work together?
Josef Loder: We work with a highly qualified network to offer customers even more service. As a Swiss, you can go directly to our partners in Switzerland, so you don't have to come to Odelzhausen near Munich to get high-quality tuning for your four-wheel-drive car. The pleasing thing about the cooperation between delta4x4 and Auto Stieger in Fehraltdorf, for example, is that this car dealership also takes care of the homologations for Switzerland. This means that Stieger implements the certification of the modified parts based on the German specifications. Stieger in particular is a long-standing partner company that is very well versed in the field of off-road. When registering parts, you are just as well taken care of there as with the technical subtleties and last but not least you are dealing with an enthusiastic off-roader. But even if Switzerland is stricter in terms of vehicle conversions and is much less permitted there, you can easily move through Switzerland with a vehicle registered and tuned in Germany.
4x4Switzerland: What's new at delta4x4 in 2015?
Josef Loder: Our focus in 2015 is that our company will be 35 years old. For example, we celebrate this at the "Adventure & All-Wheel Drive", the largest all-wheel-drive fair in Europe, where we will be exhibiting. In addition, we are working on the homologation of the Beadlock rims in order to be able to offer them for all pick-ups. Another exciting project will be the preparations for Dakar 2016, which is now taking place in South America, as we are planning to rebuild a four-wheel drive vehicle especially for the challenges of this big rally. Of course we want to participate, which means that a rally colleague and I will drive myself again.
1980 Foundation of "delta Geländesport und Zubehör Handels GmbH" in Schondorf am Ammersee and development of the first accessory for top-ranked LJ80.

1981 Moved to Odelzhausen near Munich. Arkie Tsamouras and Daggi Deisenroth have been involved from the very beginning.

1981 Moved to Odelzhausen near Munich. Arkie Tsamouras and Daggi Deisenroth have been involved from the very beginning.

1983 Beginning of cooperation and friendship between "Fenouil" organizer of the Rally Pyramides and delta4x4.

1984 delta4x4 becomes the first official importer of Mickey Thompson in Europe. This partnership has been in place ever since.
1987 First Bigfoot conversions, such as the "Delta Monster", based on the Suzuki Samurai.

1989 delta4x4 becomes the first German PIAA importer.

1991 Construction of a new delta4x4 building in Unterumbach near Odelzhausen.

1992 delta4x4 becomes an internationally recognized wheel & tire specialist for all common off-road vehicles.

1998 A world premiere in the automotive industry, the first 22 inch rim "delta4x4 Romm" is developed. In cooperation with the tyre manufacturer Dunlop.
2007 delta4x4 took second place at the "Yokohama AutoBild Alles Allrad" tuning award for the Nissan Navara "King Kong Cap".

2012 Offroad Award 2012 for the beautiful tuning car – VW Amarok – "The Beast".

2015 delta builds the Beast based on the new Ford Ranger

2017 the delta team develops exciting audiences for the new Mercedes X-Class

2018 Development of the Loder Tire tyre brand

2019 Cornelia and Maximilian Loder take over the management

2020 40 years delta off-road sports

2022 Force – the first Real Beadlock wheel is launched
DELTA 4X4 TODAY
Today delta4x4 is your expert in vehicle tuning. The new managing directors of delta4x4 Geländesport und Accessories Handels GmbH are currently Cornelia and Maximilian Loder. Together with 10 employees, the company develops accessory concepts for more than 60 SUVs. Our focus is on pick-ups in Europe, from the Ford Ranger, to VW Amarok, Mitsubishi L200, Nissan Navarra, Toyota Hilux and Suzuki Dmax. Our clientele comes from all over the world, from Argentina to Iceland, from the former Soviet states to Australia. For this purpose, we have an international network of 19 bases abroad.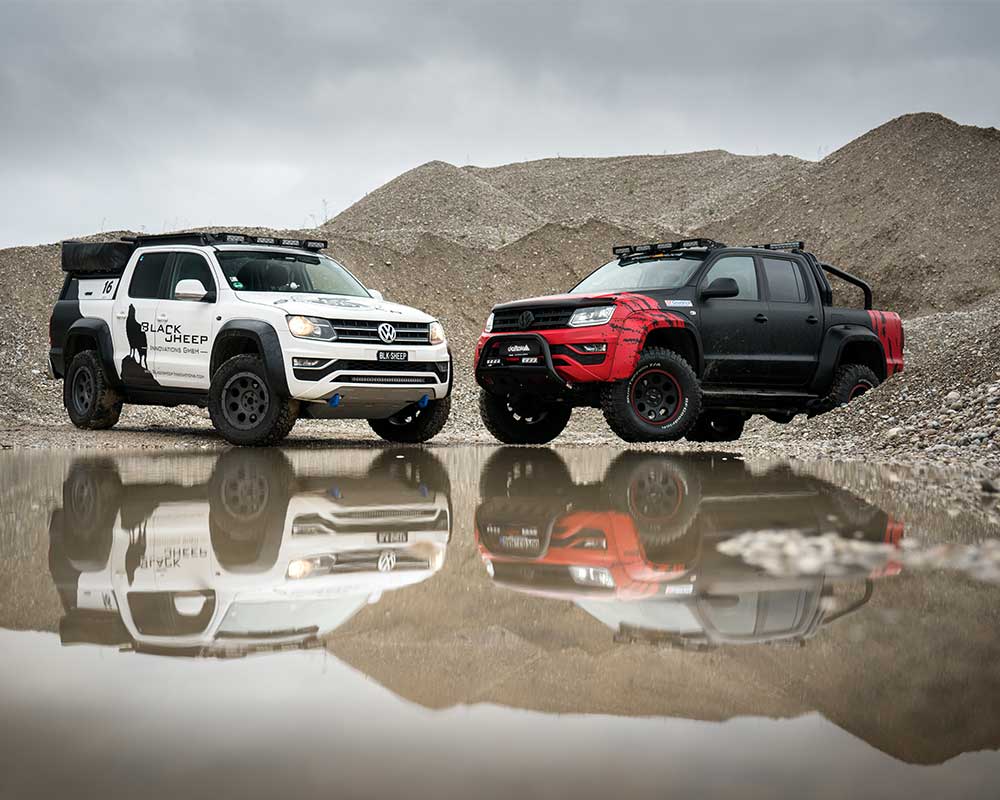 We don't sell anything that we are not
convinced of ourselves.
Quality at the highest level. Just as you put all your heart and soul into the experience and the emotions, we put it into the quality of our off-road accessories. Still not sure what your next off-road adventure will be? We do! We have the know-how you need. For us, off-roading is not just a hobby. No, it's a lifestyle. And we want you to enjoy the emotions, the adrenaline and the enthusiasm to the fullest – we make sure of that with our delta4x4 off-road accessories.