Ford Ranger Offroad Tuning
This is how you also master snow & mountains.
The family company delta4x4 offers a wide range of products to improve the driving characteristics for the Ford Ranger. Our product range also includes a broad selection of products to visually customise your vehicle while at the same time providing practical solutions. We are always looking and finding new ideas to push Ford Ranger offroad tuning further and further.
Ford Ranger BACK
Bitte wählen Sie einen gewünschten Fahrzeugbereich im Bild um mehr Informationen zum jeweiligen Produkt zu erhalten. Jeder klickbare Artikel steht zum Verkauf.
Ford Ranger Offroad Tuning: Upgrading a Classic
The Ford Ranger has long been a classic among pick-ups. It is also sold under the name Mazda BT-50. Regardless of the name, one thing is always certain: with a Ford Ranger off-road tuning, the car, which has been in production since 1982, can be spiced up both functionally and visually. We at delta4x4 are the experts for this. We have a lot of experience in Ford Ranger offroad tuning, which is why we can offer you the best advice and the best products. First class in every respect is the main focus of our Ford Ranger Offroad Tuning. You demand a lot from your pickup and we demand a lot from our service to the customer. Discover the possibilities for a cool Ford Ranger Offroad Tuning in our delta4x4 Onlineshop!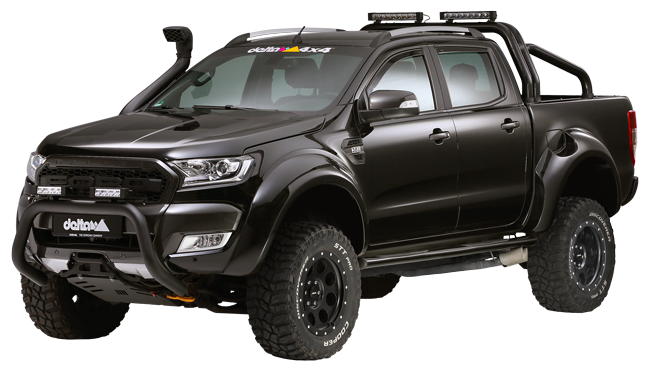 Our current Ford Ranger catalog
The Beast. The Big Best.
Ford Ranger offroad tuning: tires, rims and more
You rely on quality for your pickup truck. That's why it wears tires from top brands such as BF Goodrich, Yokohama, Cooper Tire and Mickey Thompson. Matching the Ford Ranger Offroad tires, we offer Ford Ranger Offroad rims with which you can achieve striking accents on the vehicle. In addition, they convince with excellent durability. How should the rims for your Ford Ranger Offroad tuning look like? In our delta4x4 store you can get inspired. The right model is there for you. Also, do not miss our Ford Ranger accessories tuning. How about stainless steel front bars? We at delta4x4 also call this part of a Ford Ranger offroad tuning personal protection bars, because they reduce the risk of injury in the event of an accident with a pedestrian. We supply an EC certificate for them, so you can confidently move your vehicle in traffic.
The Ford Ranger tuning program in detail
Ford Ranger Offroad Tuning: Already thought about a lift?
With a Ford Ranger lift you have chosen a great measure in the field of Ford Ranger offroad tuning. Thanks to it, you will sit higher in the vehicle and have a better view of everything. This optimizes the driving comfort immensely. Since this also enlarges the wheel arch, you can now use larger tires. Even this brings many advantages. Of course, you know exactly how the lifting within the Ford Ranger Offroad Tuning affects the appearance of your car. It immediately looks more massive, which gives you a more concise appearance on the road. Would you like to learn more about it? Contact our team at delta4x4 for a holistic Ford Ranger offroad tuning today!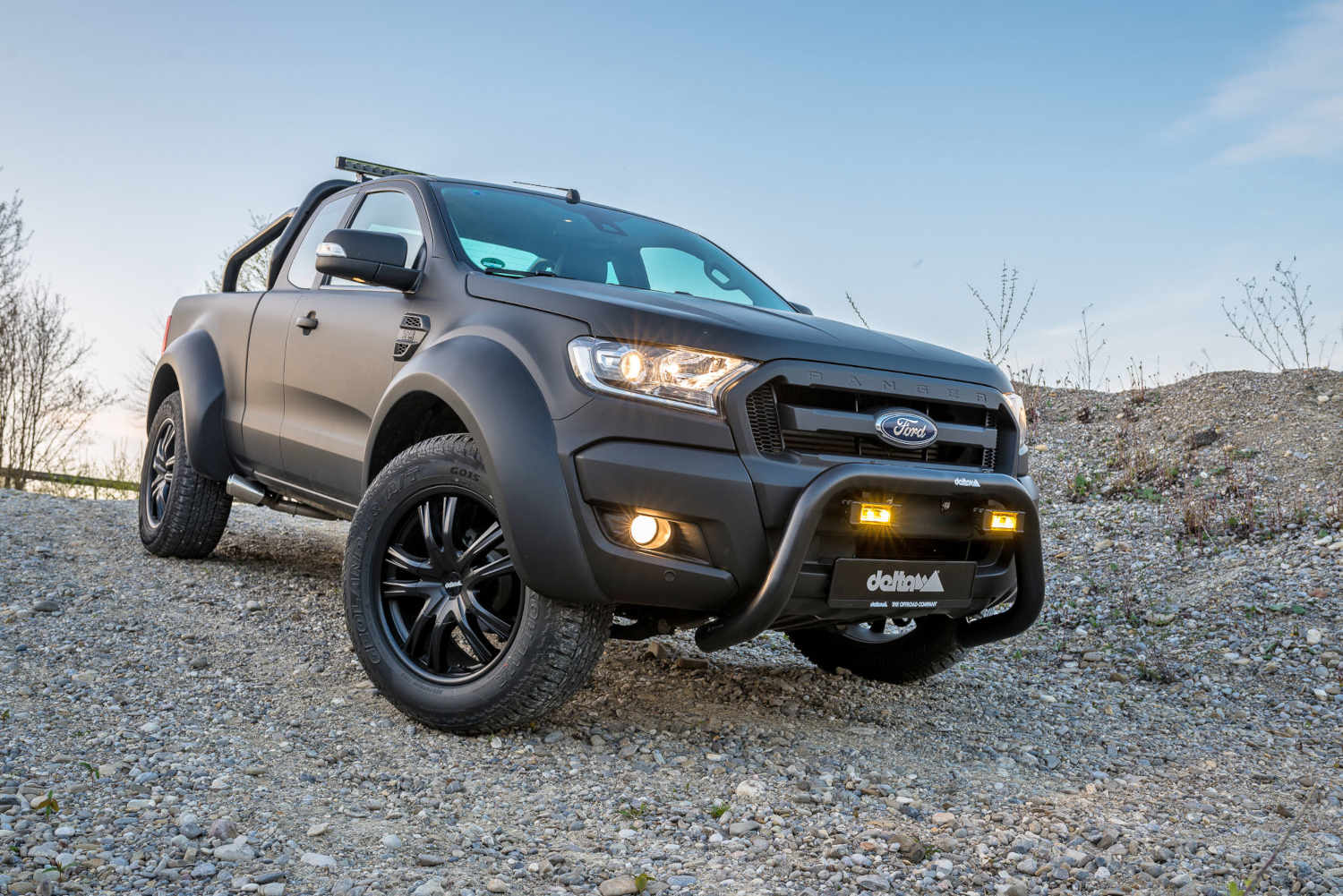 Ford Ranger Offroad Tuning: all from one supplier, all from delta4x4
Why should you search for articles about Ford Ranger offroad tuning from different suppliers? There is an expert for you: delta4x4. As tuning professionals we offer you a top service around Ford Ranger offroad tuning. Our articles are of best quality. The same counts for our consulting service. Convince yourself!