Ford Ranger Off-road Tuning
Conquer snow & mountains.
The family-owned company, delta4x4, offers a wide variety of products for the Ford Ranger to enhance its driving performance. Our product range also includes a broad selection of products to visually customise your vehicle while at the same time providing practical solutions. We constantly look for and find new ideas to further advance the Ford Ranger tuning.
Ford Ranger Beast (EN)
Please select a desired vehicle area in the picture to get more information about the respective product. Every clickable item is for sale.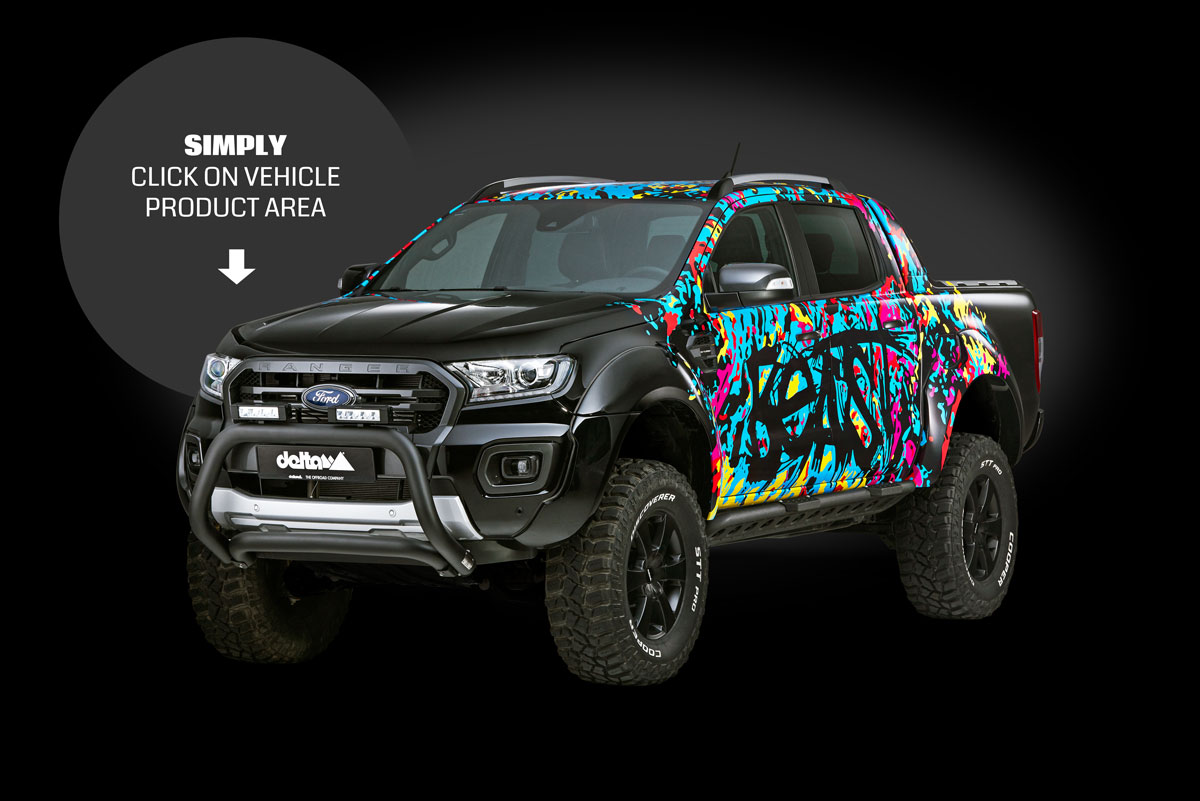 Ford Ranger Off-road Tuning: upgrade a classic vehicle
The Ford Ranger has been long established as a classic amongst pick-ups. It is also sold under the name Mazda BT-50. Regardless of the name, one thing always remains the same: With aFord Ranger off-road tuning, the vehicle, that has been produced since 1982 can be jazzed up functionally as well as visually. We at delta4x4 are the experts in this field. We are very experienced in Ford Ranger off-road tuning, which is why we can offer you the best advice and the best products. Excellence in every respect is the top priority when it comes to our Ford Ranger off-road tuning. You demand a lot from your pick-up, and we demand the same from our customer service. Discover the possibilities in our delta4x4 online shop for a cool Ford Ranger off-road tuning!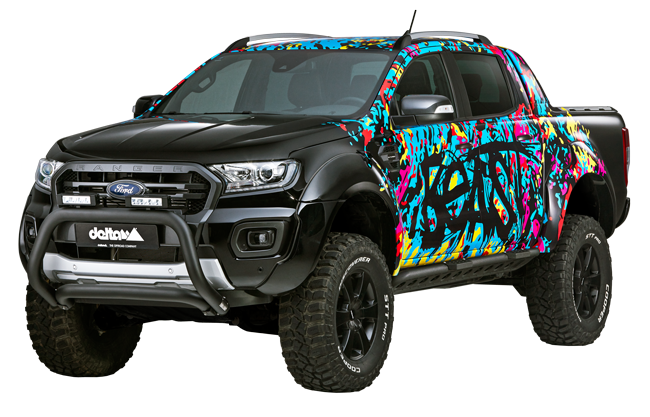 Our current Ford Ranger catalogue
The Beast. The Big Best.
Ford Ranger Off-road Tuning: tyres, wheels and more
You rely on quality for your pick-up. That is why it is equipped with tyres from top brands such as BF Goodrich, Yokohama, Cooper Tire or Mickey Thompson. We offer Ford Ranger off-road wheels to fit the Ford Ranger off-road tyres that help you achieve distinctive accents on your vehicle. Furthermore, they are exceptionally durable. How should the wheels for your Ford Ranger off-road tuning look? Allow yourself to be inspired by our delta4x4 shop. The right model is at your disposal. Do not miss our Ford Ranger tuning accessories. How about a front bar made of stainless steel? We at delta4x4 refer to this part of aFord Ranger off-road tuning as a frontal protection bar since it minimises the risk of injury in the event of an accident involving a pedestrian. We provide an EC certificate so that you can confidently drive your vehicle on the road.
The Ford Ranger Tuning Programme in Detail
Ford Ranger Off-road Tuning: have you thought about a suspension lift?
With a Ford Ranger suspension lift you have selected a great Ford Ranger off-road tuning option. Thanks to this modification, from now on you sit higher in the vehicle and have a better view of everything. That significantly enhances the driving comfort. Even this provides numerous benefits. Naturally, you know exactly how the suspension lift in the course of the Ford Ranger off-road tuning effects the appearance of your vehicle. It immediately looks more massive which gives you a more striking presence on the road. Would you like to learn more? Contact our team from delta4x4 for a comprehensive Ford Ranger off-road tuning today!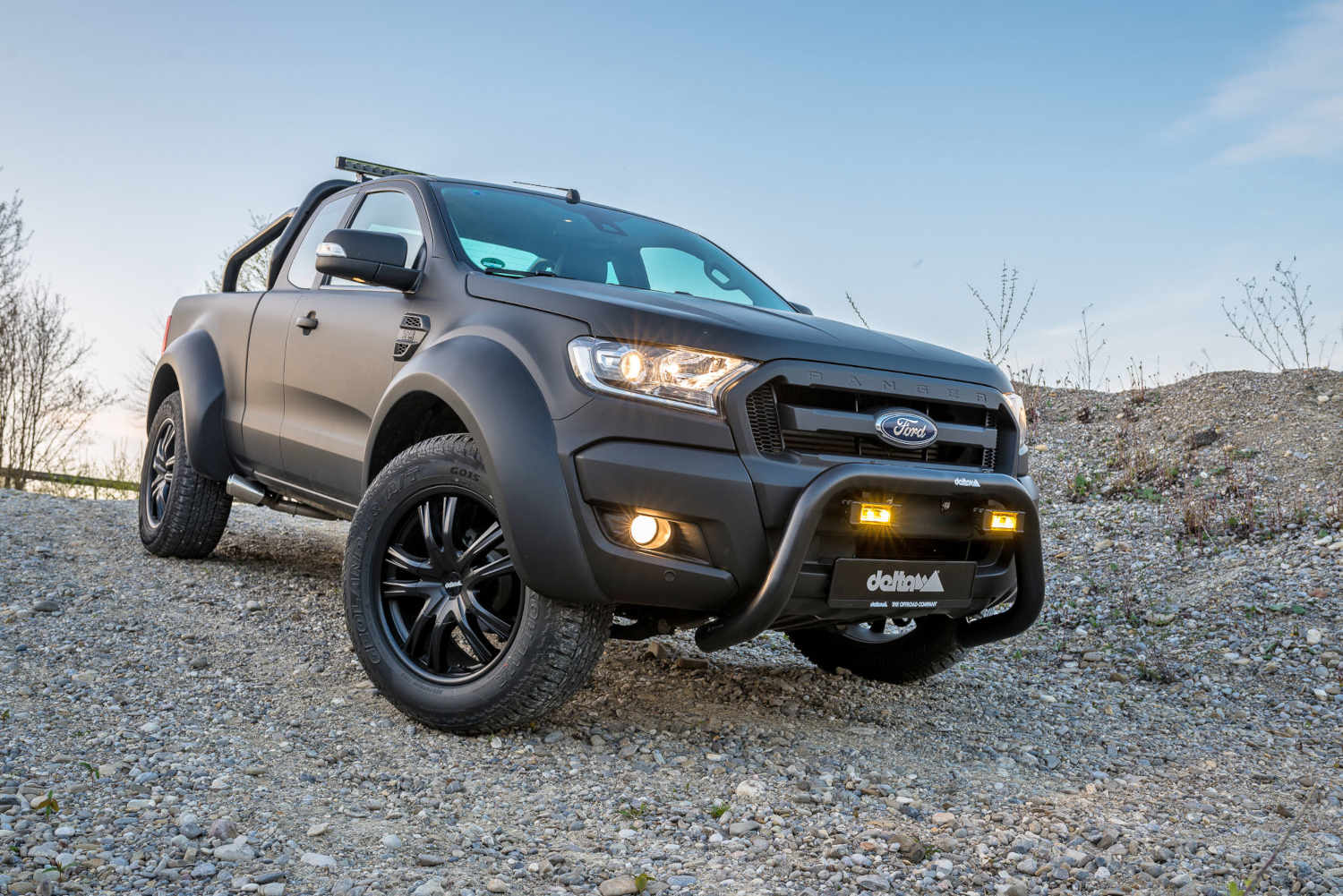 Ford Ranger Off-road Tuning: everything from one supplier, everything from delta4x4
Why should you tediously search for Ford Ranger off-road tuning products from different suppliers? There is an expert for you: delta4x4. As tuning professionals, we offer you top service in every aspect of Ford Ranger off-road tuning. Our products are of the best quality. The same applies to our consultation service. See for yourself!