Tesla Model 3 lift kit from Delta4x4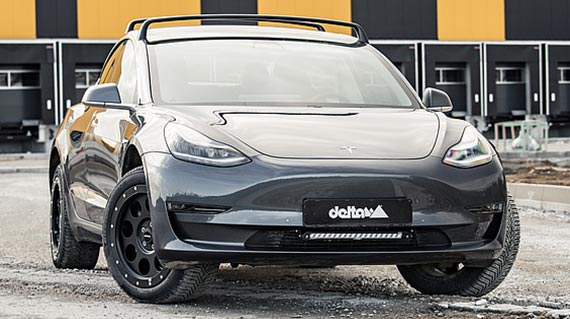 Why do the guys from Delta4x4 raise a Tesla Model 3? Do they still have them all? Delta4x4 received a customer request from Norway, where the Tesla is one of the best-selling cars.
Unfortunately, these vehicles like to scratch the floor near garages and speed bumps. Since the batteries are there, that's not so good. Consequence for the men of delta4x4 to develop a lift. Since delta4x4 is the specialist for off-road vehicles and prefers to mount AT tires on everything, the Tesla 3 also had to work. The result is a coherent package of a 25 mm lift kit with Classic B in 8.5×18 with AT tires in size 245 / 45R18. That is enough ground clearance to get over bumps, dirt roads and through Norwegian winters.