True craftsmanship from Bavaria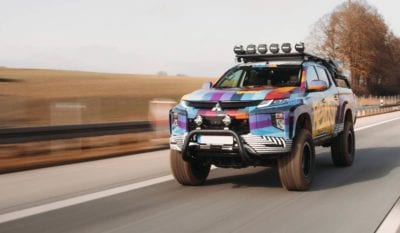 With the presentation of the Beast Pop Art delta4x4 shows a not only higher and widened, but also a still working version of the Mitsubishi L200.
A true work of art
Great art and not exactly inconspicuous is the Pop Art Beast Edition wrapping. Inspired by bold patterns and the Pop Art color palette, the multi-colored wrapping stretches across the entire vehicle and features the Beast logo in bright yellow on both sides. Rounding out the classic design are geometric patterns in black and white.
Absolute air supremacy thanks to lifting and widening
The in-house lift kit consisting of the body lift kit (100 mm) and the suspension distance kit (40 mm) raise the Beast by a whopping 140 mm. In combination with the wheel arch widening (40mm on each side) and the massive Klassik B 9,5×18 alloy wheels with Mickey Thompson Baja Boss 35×12,5 R18 provide enough ground clearance on the way through the open air museum. Not only a broadened optics but above all protection offers the black matted rocksliders.
And if you want to see something at night in the museum, six PIAA 570 high beam headlights and four PIAA Cube headlights, all mounted on the Horntools Heavy Duty roof rack, will help. Two more PIAA 530 high beams find their place on the black matt coated front bar. A fold-out comfortable roof tent with full-size mattress provides a cozy sleeping space for two on the cargo bed. The Adventure package is rounded off by a shade-providing awning and two 50 L roof boxes, both from Horntools.