VW T6/6.1 EN
Please select a desired vehicle area in the picture to get more information about the respective product. Every clickable item is for sale.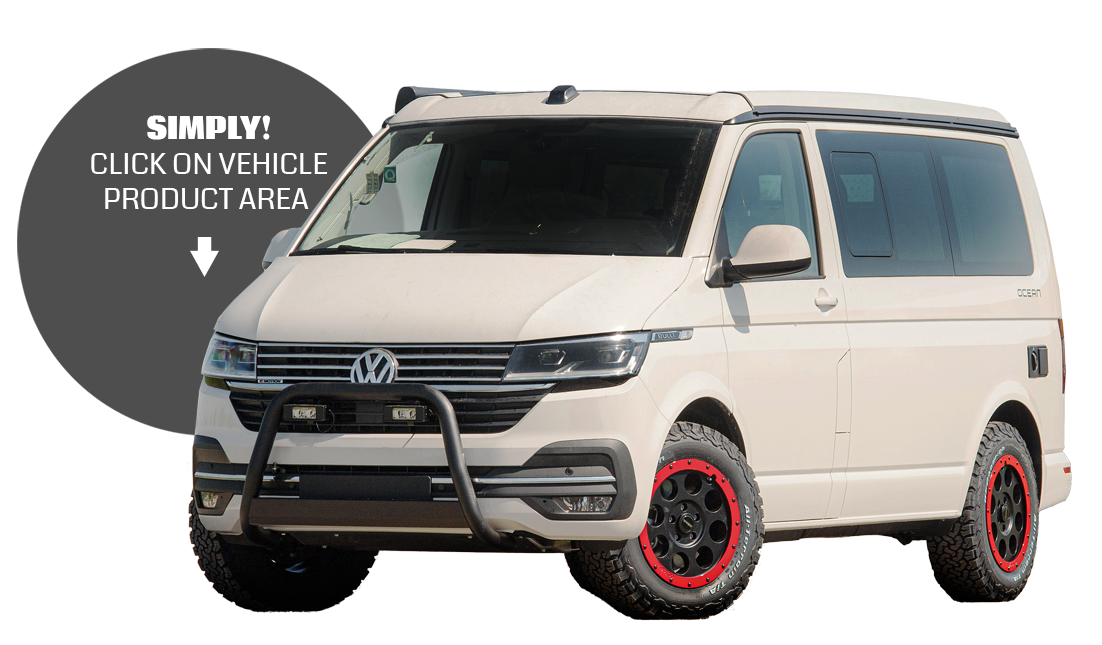 Best time to travel with the van?
Always!
Hardly any vehicle has such a status as the VW Bulli. No matter which model. The aftermarket offers an unmanageable variety of accessories for interior and tuning. delta4x4 is THE specialist for the rough (terrain)! We have for the individualization of your T6 and 6.1 everything it takes to reach even distant destinations safely.
VW T6 Offroad Tuning: we bring the Bulli on the trot
No other minibus has achieved this cult status. No other minibus is more legendary. No other minibus is cooler. With our VW T6 Offroad Tuning you spice up your car even more. In this way, your Bulli becomes an individual dream that has it all. The versatility of the VW T6 has taken the world by storm. It has long since ceased to be a vehicle driven only by tradesmen and families. With a first-class VW T6 off-road tuning, they can cleverly emphasize this fact. There would hardly be a better way than this to show: My Bulli is a real dynamic. Of course, you should not let just anyone do the VW T6 Offroad Tuning. From VW T6 accessories tuning to VW T6 offroad tires: Trust only an expert! Get in touch with us!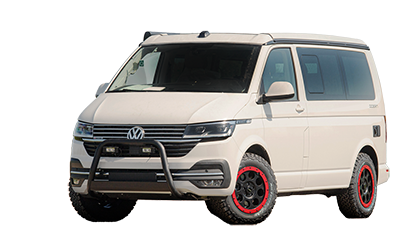 Our current VW T6 catalog
Mutlivan. California. Transporter.
VW T6 Offroad Tuning: Can it be a little higher?
A popular variant in the VW T6 off-road tuning is the VW T6 lift. Why? You then automatically sit higher in the vehicle and have an even better overview of the traffic. But that is by no means everything. This type of VW T6 Offroad Tuning is also very desirable, as it improves the ride comfort and agility of the vehicle. In addition, you can reach for larger VW T6 Offroad tires, as there is now more space in the wheel arch. Quickly you will notice how the VW T6 Offroad tuning improves slope and ramp angles. At the same time, your vehicle looks even more massive and even more present. You want a striking appearance? The VW T6 Offroad Tuning makes this possible for you.
Thanks VW T6 Offroad Tuning to new rims
For some, rims are just an insignificant accessory on the vehicle. For others, they are a stylish detail that should be chosen with care. Do you also belong to the latter group of true car fans? Then don't wait long and choose new rims as part of VW T6 offroad tuning. Regardless of whether your tires are from BF Goodrich, Yokohama, Cooper Tire, Mickey Thompson or any other brand, we have chic and durable VW T6 Offroad rims for you. They'll take on any adventure and shine with a flawless look. It's best to take a look at our online store right now to get inspired here at delta4x4 how a concise VW T6 Offroad tuning can look like!
VW T6 Offroad Tuning: one supplier, all possibilities
Instead of browsing countless online stores and writing to countless tuning providers, you should rely on an expert for VW T6 offroad tuning with us at delta4x4. We offer you several possibilities to upgrade your Bulli. You will be surprised what is possible. We work only with excellent products and materials. Our employees are tuning fans themselves and have excellent knowledge of vehicles. That's why we guarantee you powerful advice and a comprehensive service that will inspire you for a long time. What can we do for you? How do you imagine the VW T6 Offroad Tuning for your vehicle? Get in touch with us! We look forward to hearing from you.