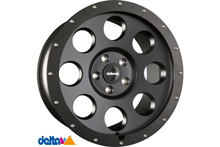 KlassikB rim series from delta4x4 – also with integrated rim protection
With their eight-hole pattern, the "classic" rims from delta4x4 are the most striking aluminum for pickups from the South German off-road vehicle tuner. They are available either in polished aluminum or in matt black and that in two technically different versions: On the one hand as a conventional aluminum rim "Klassik" and on the other as "KlassikB" with an exchangeable collision protection.
Inspired by the American off-road racing scene, in which beadlock rims are part of the high-tech standard, delta4x4 has also equipped its "KlassikB" with a "beadlock ring". While this ensures that the tire is clamped on the rim of the US racing rims and cannot twist even under high loads – which would lead to loss of pressure – delta has adapted this beadlock technology for everyday use. With the KlassikB rim, a modified beadlock ring serves as collision protection, which absorbs the energy in the event of contact with the terrain so that the rim itself is not damaged – the damaged ring can be replaced easily and inexpensively.
Because: Both when using off-road on rugged, hard ground as well as when simply parking on the side of the road, the rim can be easily damaged – be it through the rugged rock or the granite curb. But this is exactly what the rim protection prevents with the KlassikB.
The classic and classic B rims are available from delta4x4 from € 390, the complete wheel set with all-terrain tires is available from € 2,400. A replacement approach ring for the KlassikB rim costs € 47.60.
More information about the KlassikB rim from delta4x4 can be downloaded from the website www.delta4x4.com under Products / wheels.